We are proud to announce that our company has received
"The ISO 9001 certificate"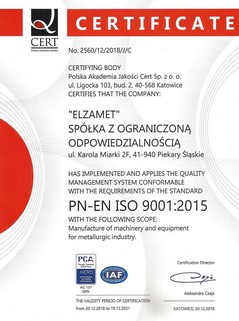 We are the oldest Polish manufacturer of induction heaters for forging, rolling, pressing and hardening processes.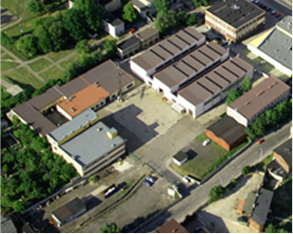 Our company has a long tradition on the market, dating back to 1966. During the first years of operation, the company operated as an electrical plant within the mechanical facility called ZAMET. Later, it was transformed into a Manufacture, Trade & Service Company and was named ELEKTROZAMET Ltd.
At present, the company operates under the firm ELZAMET Ltd. Since its foundation, it has specialised in manufacturing machines and devices for metal casting industry. At first, the largest part of all the production were power, control and automation systems for ZAMET's machines and induction heaters designed for heating non-ferrous metals before the rolling process. Over time we continued to enhance the production process and to enlarge its scope of activity.
Besides the basic scope of activity, which is the production of parts for casting equipment and machines, now our company provides comprehensive services related to the regeneration of our own products.
The dynamic development has enabled us to quickly adapt to the demands of the clients and the market. All this and our long experience serve as a guarantee of the high quality of our products and services. We always strive to meet our clients expectations by ensuring the highest quality of our products when it comes to the component materials, technological process and price. This guarantees long, safe and reliable operation of our products, and proves the commitment and professionalism of our company.
The most reliable source of feedback for us is the satisfaction of our clients and the recommendations from our partners. A qualified team of specialists remains always at your service: we are able to meet the expectations of the most demanding clients and create a product for any technological process. Below you will find photographs showing selected products. Some of them have short descriptions and a list of companies which became our clients.